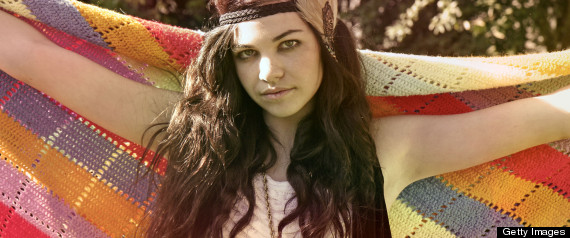 Topanga is a quirky community. When we decided to decamp to the hills from tony Santa Monica a friend quipped "You're moving back to the 60s?"

Most of what I knew of Topanga was by reputation: bosky, aging hippies and artists, tree huggers, the place time forgot.
When we moved to the top of the mountain we only had a fairy-tale notion of what to expect. We're still acclimating. People are friendly; some will talk your arm off. They take their time and there's very little of the self-importance or smugness you find in West LA.
As peaceful as it is, you're still reminded of the vast metropolitan area beneath your feet. Just a few steps from our front door is an overlook that commands a majestic view of the San Fernando Valley, which is especially impressive at night with millions of twinkling lights and the beacons of jetliners overhead – the Santa Susana Mountains hulking in the distance.
Wildfires are a constant threat here, and Topanga practices the art of evacuation religiously. We first learned about the annual fire drill when Mary ran into John Stevens, who chairs the committee and lives down the street. Tall and lanky with a booming voice, John has an air of easy self-confidence, who treats you as if he's known you his entire life. His house is mysteriously cloaked in all manner of shrubbery and vines, which makes one wonder what really goes on inside. There's an old GMC van parked out front and in the back a small forest of Ham radio antennas.
"Are you doing the drill next Saturday?" he asked enthusiastically.
Mary answered that she'd be out of town but she'd be sure to tell me about it.
The next day's mail brought an impressive packet of information.
"Ready Set Go!" it proclaimed. "Practice your plan!"
We've all seen wildfires in these tinderbox hills on TV but I'd never seen them up close, and it was a little sobering when our insurance agent scoped our house and took pictures before issuing a policy. Naturally one gets a bit nervous when the Santa Anas kick up and it hasn't rained in months. (Actually, it rained the night we moved in – a rare occurrence, we were told.)
So, I decided to do my civic duty and was up on alert that Saturday morning, eagerly awaiting the phone call that never came. I did receive text messages warning that the "fire" was advancing on Topanga and ordering various neighborhoods to head for the valley. So, I leashed up Bella and we jumped in the car.
Switchbacking our way down the hill, it was difficult to see if anyone else was an evacuee. In this big city it's easy to blend into the crowd. Soon we were zooming down Topanga Canyon Boulevard in Woodland Hills and turning right on to Ventura with all the other Saturday errand-runners. As we made our way into the staging area in the parking lot of Taft High School I didn't see any VW busses or vans with Grateful Dead stickers. Maybe I'd taken the stereotype too far.
We were met by volunteers in orange vests who directed us to a parking space. I signed in, filled out a short survey and let them know I hadn't received a phone call while Bella did her usual thing making new friends and attracting adoring children. It was more like a festival. I wondered if we'd be this cheerful in a real emergency.

I heard a voice I recognized and turned around to see Jeff Ippolito, who had hooked up our washer-dryer and installed a light fixture for us. Mary found Jeff by Googling "Topanga handyman" and it turns out he grew up in St. Louis and is a fellow University of Missouri alum. A local now for nearly 20 years, Jeff is an eternally-smiling, self-effacing guy who always has a story or two to relate, with great aplomb. A onetime set dresser for TV shows and commercials, Jeff's true bliss is fashioning art out of junk in his spare time. He recently volunteered to build a scale replica of an old California mission for his kids' elementary school. I'll ask him for a photo and share it.
Today there's a brush fire in Pacific Palisades, about six miles from us as the crow flies. The smoke is drifting past us and fire engines have been tearing down the road. John tells me we're in no danger, but it's hitting a little too close to home. At least we know the evacuation route. Next step is to assemble our wildfire/earthquake survival kit.